A.M. Dassu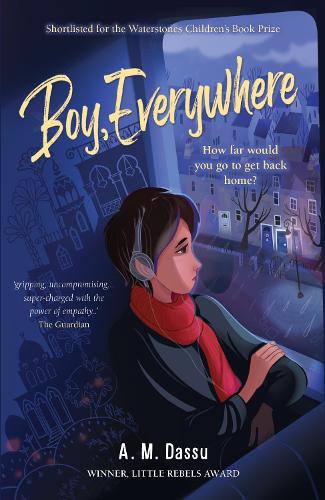 'How far would you go to get back home?'
Old Barn Books – Published 22nd October 2020
Unapologetically harrowing, yet heartfelt and full of hope…it's really hard to find the right words to review Boy Everywhere in order to do it justice. It was not easy to read yet, it was so compelling it was not easy to put down either – an absolutely breath-taking debut by A.M. Dassu.
Boy Everywhere flips the narrative on the typical refugees stories portrayed by the media and we are allowed to glimpse the contented, peaceful lives that the people of Syria were leading before the civil war broke out – something I'm sure many of us sadly haven't given much thought to. As a result of this, Boy Everywhere challenges the stereotypical image of refugees and shows the sheer magnitude of what has been left behind: loved ones, highly skilled professions, beautiful homes and vibrant cities. It also hammers home the fragility of life. That anywhere in the world, any one of us could have our perfect lives snatched away in a matter of hours and be forced to leave our beloved homelands by the sheer desperation to find safety. Any one of those refugees could be us.
Sami, the son of a surgeon and principal, is a 13 year old boy living a comfortable life in Damascus, Syria. Like most teenagers, everything revolves around image and social life – Air Jordans, hanging out with friends, cinema dates, ice-skating and meeting up for pizza and ice cream. Sami and best friend Joseph are football fanatics. When they're not on the field, they're having FIFA battles on the PlayStation 4. The boys are determined to tear up the Under 15 football trials and Sami has begged his mum to collect the Adidas Predators he's ordered into store so that their driver can drop them off at school for him.
But later that day, tragedy strikes. A bombing at the mall, forces the schools to evacuate and Sami is collected by Joseph's dad. But it's not until later that evening that he realises that his mum and younger sister, Sara were at the mall, collecting his football boots.
Sami rushes to the hospital where his father, Dr al-Hafez has been caring for his loved ones since they arrived in the emergency room. Aside from cuts and bruises, they have had a lucky escape. Others weren't so fortunate and Sara is so traumatised by the horrific sights she witnessed in the mall, she stops speaking. Now the war has finally reached Damascus, Sami's parents make the heart-breaking decision to flee the country and seek refuge in the UK where they have extended family.
Their whole lives are swiftly packed away and their beautiful apartment with it's marble floors and tasteful decor sold. The family say an utterly heart-wrenching goodbye to Tete, Sami's grandmother who is unable to make the treacherous journey. Once they arrive at the airport in Lebanon, Sami's dad sells his beloved Honda CRV and the family now only have the clothes they stand up in and some winter coats in backpacks.
You cannot fail to be gripped and appalled by the family's harrowing passage and the shocking encounters they have along the way; a terrifying Mediterranean crossing, stowing-away in lorries, being locked away by smugglers for days on end in overcrowded rooms in near pitch darkness, the violence of a detention centre… My heart was literally in my mouth throughout the book. The sheer fear was palpable and I was sickened by the exploitation, racism and hatred the family endured.
Sami is a remarkable character – I don't think I have the strength of mind nor the courage to survive what he did. The horrific experiences he is forced to encounter at the tender age of 13, is more than most adults could cope with in a lifetime. He is in constant turmoil over asking his mother to collect the football boots, blaming himself for his family's suffering. Your heart will be torn apart by his sheer bravery and determination, fear, humiliation, guilt and shame and this is amplified further when you realise that there are thousands of children who have lived this story just like Sami. No living being should have to endure these horrendous experiences.
A.M. Dassu has found an extraordinary balance between the harrowing and the heartfelt for older Middle Grade/early Young Adult readers, by sensitively ensuring Sami's plight is hard-hitting enough to build empathy and compassion, without being completely overwhelmingly distressing.
It's been a week since I closed the book and I know the story of Sami and the al-Hafez family will stay with me for a long time. Boy Everywhere is such an important book, a must-read that is sure to open hearts and minds.
'In a world that tells us to see refugees as 'the other' I hope you will agree that 'they' are also 'us.'
S.M. Dassu
I must say a huge thanks to @sha.rewrite and Old Barn Books for sending me a teacher review copy through an Instagram campaign aiming to get Boy Everywhere into schools everywhere. This is a book that absolutely must be on the shelves of every school library .