Maverick Publishing – November 2020
November is here which can only mean one thing…the new series of Maverick Chapter Readers has arrived! Six stupendous new titles spanning Lime, Brown and Grey book-bands are sliding onto the shelves ready to engage and enthuse children about to take those next steps to independence in reading chapter books.
Having taught Year 2 last year and my son moving into Year 3 in September, I know there is such a gap in the market for high quality first chapter books. Even though my son is an able reader, he is not yet ready for longer middle grade novels and he still very much needs pictures to motivate him to read a longer fiction book. I had become so frustrated, particularly during lockdown and the summer holidays trying to find books that are sufficiently challenging without being too overwhelming. As well as a fantastic to any classroom selection of readers, these would be great for parents desperately trying to source books to enjoy at home that are appropriate for this stage
We have thoroughly enjoyed spending the past couple of weeks reading and reviewing these six brand-spanking new titles. From ghost girls, colossal caterpillars, detective dogs, computer games capers and underground adventures, there's a range of stories that will appeal to everyone – oh and let us not forget the spookiest ice-cream parlour you'll ever visit!
Each book is around 50 pages in length, comprising of 8-10 short Chapters. These provide natural breaks in each of these perfectly-formed short stories for readers to stop if they need to. This is satisfying for young readers building stamina as they see themselves progressing through a book quickly. The narrative is interspersed with colourful, lively illustrations that maintain that extra level of interaction with the book. In each of the stories, the plot moves along quickly holding young readers' attention.
At the end of each book there is a handy set of discussion points. These vary from straightforward retrieval, multiple choice questions to how, what and why questions and they mirror the reading comprehension style questions children of this age are required to approach. As well as answering each point verbally, children could practise formulating a written answer.
My son read each of the books to me and between us, we quite honestly couldn't pick a favourite. The characters and stories are each so different and my son liked them all for different reasons. Often this type of title are limited to animal stories or a series of stories with the same main characters, but the 'variety pack' nature of these Chapter Readers was a big plus for us.
So without further ado, here is a min-review of each book:
Lime Level
Leroy and his grandad hope to win the Glenford Gardening show but they've got stiff competition from nosy-neighbour Mr Tomkins who is always spying (and complaining!) over the fence. Grandad makes rapper Leroy chief vegetable-irrigator and leaves him with strict instructions to add one drop of Grow Magic to each can of water. But DJ Leroy is too busy being a lyrical gangster to notice that he's tipped in the whole bottle. Cue giant vegetables and colossal caterpillars – it's carnage in the cabbage patch! This can only mean one thing…a visit from the Big Bug Squad and their shades-clad Big Bug Boss! Is the prize out of reach?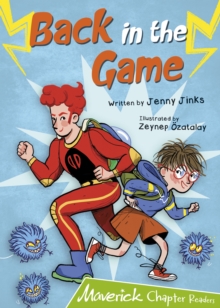 Leo is an epic video gamer. He's spent hours trying to complete all the levels on 'Danny Dangerous' catching all the Crazy Critters. But one day, a thunderstorm hits and the power surge fries his console – the screen is blank and it's totally unresponsive! But wait…what was that…? A real life Crazy Critter running down his stairs! The surge in electricity has caused the characters to come to life and Leo is literally living the game. He and his hero 'Danny Dangerous' must join forces in their mission to catch the critters, level by level – can they catch them all?
Brown Level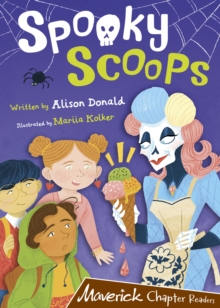 Sanaya's favourite ice-cream parlour changes hands has changed hands. Re-branded 'Spooky Scoops' the new owner 'Skeletina Sundae' and her bald, sphynx cat 'Vanilla' introduce a monstrous theme with devilish new flavours. There's 'Bloodbury Ripple' 'Cookies and Scream' or how about 'Rocky Road to Death with a side of slime.' The spooky new flavours are so addictive that soon the whole town is obsessed but soon, Sanaya notices that the townsfolk, including her best friend Jen are becoming 'Super Scoopers' bringing flasks of ice-cream to slurp at school! And the Super Scoopers are becoming more monstrous each day, with soft hair on their face and hands – some even have fangs! Sanaya discovers Skeletina has spooky secret sprinkles that are casting a spell on the Super Scoopers. It's up to her and sidekick Haru to save the town from ice-cream induced enchantment. Haru has a milk allergy which means he is unaffected by the ice-cream as he is unable to eat it. It was a clever touch that a child with a dairy intolerance turned out to be a hero in the story.
Hettie is playing hide and seek when she ends of falling down a sinkhole. Blinking in the gloom she discovers a network of underground tunnels but that's not all…hundreds of pairs of eyes are blinking back at her in the darkness and hundreds of tiny hands begin to prod and poke her. She has landed in a secret underground kingdom of gnomes! The gnomes bow-down to Hettie. She has come to save them from an army of monsters threatening their kingdom. But Hettie doesn't have the foggiest idea what they're talking about. She hasn't heard of any monsters living in the area – what on earth is going on? Go down the rabbit hole in this Alice in Wonderland, Enid Blyton style story.
Grey Level
It's a case of Back to the Future in this time-travelling tale. When Artie sees a ghostly figure of a girl in his family's barn he can't believe his eyes! But it turns out that all time travellers are translucent like ghosts and this one has lost her time machine and family and can't find her way back to the future. If Artie and sister Casey don't help her she could disappear for ever and history and time will be changed for eternity. The children come up with an ingenious plan to make a village time capsule so that they can find the girl's family but as they excitement builds and the mayoress guarding the capsule it seems the odds are stacked against them. It's a race against time to save their new friend.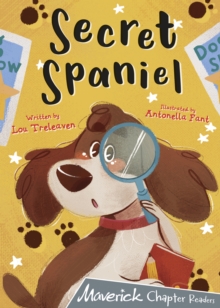 A doggy detective dubbed 'The Nose' is on the case to sniff out the mystery celebrity entry to the local dog show. Rumour has it that Tasmin Parker-Smetherington and her pampered pooch 'Sweetikins' have been booked to open the fete. Reigning champion Brutus the Boxer isn't going to let some out of town hound steal the dog show and he's going to take action unless Springer Spaniel Maddy can persuade Sweetikins not to enter the contest. As it happens, Sweetikins is appearing at Cobblestones Bookshop signing copies of her autobiography Dog Star. All Maddy has to do is get to the station, get on a train, get to London, find the bookshop, persuade Sweeti and come home. Simples! Maddy manages to evade her hapless human Mike and sets off on her quest – can she escape the wrath of Brutus and stop Sweeti swanning off with the victory? There are so many humorous interactions between the different dogs in the story and Hamlet the crossword loving, toilet cleaning cat his hilarious!
A big thank you to Maverick Books from both me and my son for providing us with copies of these lovely Chapter Readers to review ahead of publication. This is a superb selection pack of stories perfect for this age and stage.
You can pre-order these Chapter Readers, here