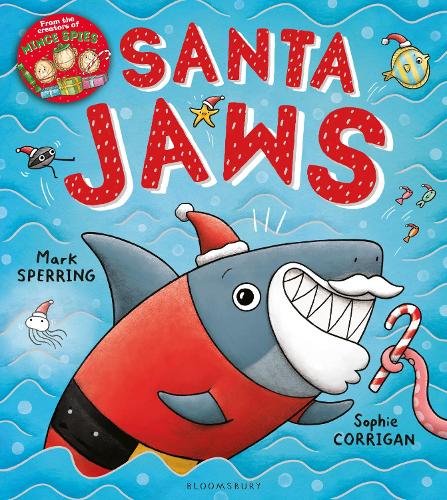 Mark Sperring & Sophie Corrigan
Bloomsbury – 15th October 2020
"Deep beneath the deep blue sea, it's almost Christmas Eve and a Sneaky Shark named Shelly has something festive up her sleeve!"
Santa Jaws is a fantastic fishy tale full of festive fun!
It's Christmas in Coral Town and Shelly the Shark sneaks off to 'Haddocks' the 'posh' Christmas store (love the 'For Sail' sign in the background!) Here she stealthily purchases a Santa suit in order to lure the other sea creatures into to her lair.
Most of the other fish know her tricks and suspecting that they're about to become a slap-up fish supper, swim for their lives. But an unsuspecting little Squid named Sid passes by herunder-water grotto. Desperate to experience the magic of Christmas, sweet little Sid the Squid knocks on the driftwood door…
Sid's tentacles are trembling as he tiptoes into the underwater cave. What follows is an exchange similar to that of Red Riding Hood and the Big Bad Wolf and there's the big 'scream-at-the-top-of-your-voice-until-you're-blue-in-the-face-moment' that all small children love – SHARK! (or quiet gulp as Sid is terrified!)
Sid makes a swim for it, too scared to stick around but hears Shelly Shark sobbing. It turns out she's not the villain we first thought she was and genuinely just wants to spread some yule-tide cheer. So the pair team up to give the ocean the best Christmas it's ever had.
Everything about this book is so cleverly done. Little touches to the highly detailed illustrations like the nautical themed signs in Coral Town such as 'Crustacean Bus Station, a sleigh pulled by seahorses and the 'Recycle' logos on the carrier bag that Shelly puts her purchase in and on other plastic items in the ocean are so engaging for adults and children alike. The 'Merry Fishmas!' line clinched it for me as a 5 star read but then I worked out that Sid's 'song' at the very end of the story actually fits to the tune of Jingle Bells – pure genius!
I'm sure this will become a much-requested book in nurseries and reception classes in the run up to Christmas. It would also make a great choice for a book advent calendar.

Santa Jaws is definitely going on my Christmas list this year! It was a pleasure to review.
With thanks to NetGalley and Bloomsbury Children's Books for the digital advanced copy.