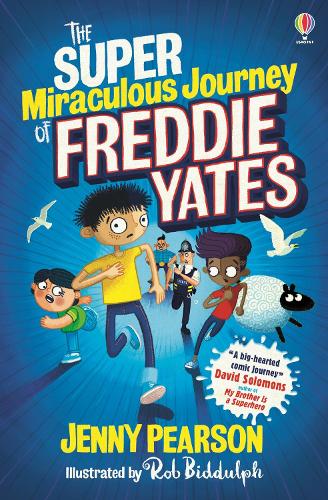 Jenny Pearson
Usborne 16th July 2020
The super funny, heart-warming adventure of three boys, one summer holiday, and a few miracles along the way.
It's the last day of Year Six and BFFs Freddie, Ben and Charlie have just graduated from Primary School to the very shouty soundtrack of 'One More Step Along the World I Go.' The summer holidays have arrived and Ben's bleating about being dragged to Disney Land with his dad and the stepmother from hell, whilst Charlie is off to 'Camp Mung-bean' for his family's annual detox.
But Freddie Yates' summer is really going to suck. He's facing six weeks of no plans and no friends as his dad accidentally ran himself over with his own car and broke his leg. Six weeks of hanging round the house with dad and his strip-Monopoly-playing grandma 'Grams.'
Now just so you're prepared for the sad bit (as Freddie prepares us right at the very start of the story) Grams dies.
She leaves Freddie a heart-felt letter and there's something else inside the envelope . I'm not going to say anymore about this other than this marks the start of a Super, Miraculous Journey to Wales and Freddie enlists the help of his two best buds who accompany him.
This is the perfect 'moving on' summer read for Year Sixes. Packed full of hilarity and hijinks that will have them literally LOLING. In parts, it's like an age-appropriate version of The Inbetweeners.
"We're in Wales, in a boat we've broken into, which we've now set on fire and we're practically naked – how is that not a disaster?"
It is pure comedy gold. The epic journey involves an onion-eating competition, exploding toilets, stolen goods and a spot (in a Super-girl costume) on the national news. But yet there are many poignant and touching moments throughout the story that cannot fail to move and the sense of 'one last adventure together that they never want to end' is reminiscent of Stand By Me or The Goonies.
Freddie Yates' family situation and his feelings about where he fits, also allows children to explore a different family make-up and realise that all families are unique and special.
"It's not the blood that flows through our veins but the love in our hearts that brings us together."
I thoroughly enjoyed going on The Super Miraculous Journey with Freddie Yates and there's still enough of the summer left for you to don your superhero costume and go too.