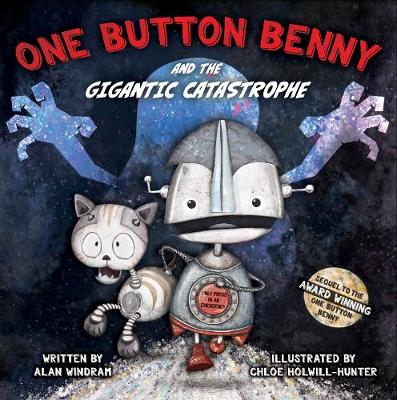 Written by Alan Windram & Illustrated by Chloe-Holwill-Hunter
Published by Little Door Books – 7th August 2020
Disaster strikes! Everyone is in a panic.
Can Benny Save the day?
Will he have to press his Big Bright Red Button again?
In the second book in the series, One Button Benny is forced to go on a rescue mission. Benny and his friends are shocked to discover that the day before the 'Cool Cat Competition' all of their pet cats have been kidnapped – it's a Gigantic Cat -astrophe!
There's nothing for it… it's a full-on Big Red Button emergency! A plan is dispensed by the button from a secret door in Benny's chest compartment with a CLUNK and a CREAK and Benny and his friends follow the instructions to build a huge metal 'Trojan-Horse-style cat. The mysterious alien kidnappers can't resist coming back to steal the massive metal moggy, but little do they know, Benny and his friends are hiding inside when they tow it back through space to their planet.
After all that cat-napping the aliens fall asleep and our robot rescuers creep out to free the felines. But just when they think their plan has worked there's a big 'UH OH!' moment… I'll leave it to you and your little people to discover if Benny and Co. ever make it back to their own planet.
Robots and aliens are a winning combination for Early Years and Key Stage 1 children. For Y1 particularly, this would be a great book to use as a read aloud at the beginning of the year but by July, many of the children would be able to read it independently.
My son aged 7 years co-reviewed the book with me. He was able to read it aloud and I could see he was very engaged with Chloe Holwill-Hunter's illustrations, pausing on each page to notice all the tiny details. He particularly liked the huge Trojan Horse-style metal cat and giggled instantly at the wobbly weeble-like aliens.
The narrative includes many different devices to practise reading with expression. There is use of capitalisation for dramatic effect and emphasis and we just knew that we had to read the speech bubbles, presented in a computer-like digital-style typeface in a robotic voice which was highly entertaining! Young children love doing sound effects and the use of onomatopoeia throughout the book gives plenty of opportunities for this.
It was also fun talking about what we thought would constitute a Red Button emergency. My son said he would press it 'if the TV broke' and my 5 year old daughter said 'if we ran out of chocolate' (I'm inclined to agree there!) It would be great to find out the children's ideas in class.
I'd have to disagree with Benny's mum though…having to do the dishes is ALWAYS a reason to press the Big Red Button!
A big thank you to Alan Windram and Little Door Books for providing me with a copy in advance of publication – I'm looking forward to gong on more adventures with One Button Benny.
Visit http://littledoorbooks.co.uk/ to explore more wonderful picture books.
Find them on Twitter @LittleDoorBooks